Ways to Have a Low-Stress Fami...
1

A Guide for Parents to Teachin...
2

Methods of Discipline Your Chi...
3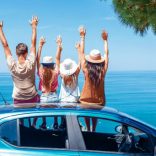 It's that time of year again when the family takes to the open road for vacation. If you're like most people, you'll be looking for ways to keep the stress levels down during your road trip. Here are a few tips to help make your journey more enjoyable for everyone.
Read More